Denbighshire parents' plea to bring back 'nit nurses'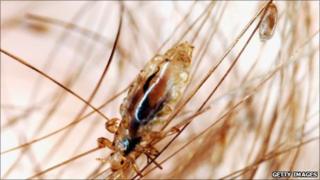 Parents of pupils at a Denbighshire school say up to 600 people have signed a petition to bring back "nit nurses".
Campaigners are staging an information day at Ysgol Christchurch, Rhyl, where they want a registered practitioner checking children's hair for lice.
Petition organiser Kelly Payne said it was a "big problem" and her own daughter had come home crying from school many times.
Website mumsnet.com said opinion on nit nurses was split among its members.
Nit nurses were a common sight in schools up until the 1980s and 1990s, when responsibility shifted to parents.
A single louse can lay dozens of eggs, called nits, in a day.
Lice cannot fly or jump and rely on hair-to-hair contact to pass from host to host, although they can be transferred by head contact with contaminated bedding or furniture.
While their bloodsucking activities do cause itching, the infestation is not dangerous, although the host's scratching can lead to secondary infections.
Advice not action
Mari Gaskell, Ysgol Christchurch's deputy head teacher, said the school had a nurse who helped with information, advice and awareness, but did not routinely check for head lice.
"What we're not able to do is actually force people to treat their children's hair or to exclude them on the basis of the fact that their hair needs treating."
"In the past the nit nurse used to come in and sort of look at the children's hair and we were able to sort of send them home if necessary to treat them.
"That hasn't happened for many years.
"If we have any parents who are reluctant to treat their children's hair it goes very quickly from one child in a class to the whole class, and from the whole class to the school."
Parent Kelly Payne said her six-year-old daughter had come home from school in the past "walking alive" with lice.
She said: "It can really give your child a bad name.
"My little girl's come home crying plenty of times with it, and it's not nice but kids are kids."
Ms Payne is collecting signatures calling for a registered practitioner to visit Denbighshire schools at least once a month.
She and other parents will offer advice to parents at the school on Tuesday, to try to raise awareness.
The campaign has been backed by Vale of Clwyd MP Chris Ruane, who said: "I certainly remember visits by the nit nurse into schools and it certainly is something the health and education authorities should consider reintroducing."
'Unpleasant realities'
According to an online survey by netmums.com, 88% of parents want to see nit nurses back in schools.
Justine Roberts, co-founder of mumsnet.com, said: "Dealing with nits is one of the more annoying and unpleasant realities of school life but Mumsnetters are spilt on whether the return of the nit nurse is the answer.
"Whilst some would welcome Nitty Nora, others feel they can do the job on their own and wonder if this is the best use of scarce resources."
Some believe nit nurses were not effective, and the best treatments must be done at home.
Sioned Davies, a school nurse in Denbighshire, said: "In the past nurses have been going through dry hair.
"Research has shown recently that going through dry hair, the lice are still able to move.
"The most effective method is wet combing of the hair with shampoo and conditioner."
A Welsh Assembly Government spokesman said: "There is no ban on children being checked for head lice.
"It has been recognised that routine inspections at school by a school nurse are not only ineffective at tackling head lice in the long term, but can lead to a false sense of security.
"Our advice is that regular checking by parents, who are clearly the best-placed people to check their own children for head lice, is the most effective way of dealing with them."