Hundreds sign petition to protect Mold's Bailey Hill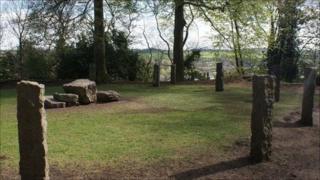 A campaign group says up to 800 people have signed a petition calling on Flintshire council to prevent anti-social behaviour at an historic site.
The council owns land, thought to be an 11th Century settlement site, which includes a lodge which was occupied by a custodian until a year ago.
Since the custodian left, the Friends of Bailey Hill group claim the building has been broken into and vandalised.
The council said precautions had been taken to "ensure the lodge is secure".
In a statement, it added: "The council has been considering the future use of the lodge and several expressions of interest, for a variety of possible uses, have been received and these will be fully considered.
"A meeting is being arranged with the town council to discuss the issue.
"In the meantime the council has taken all precautions to ensure the lodge is secure."
Mold Town councillor Andrea Mearns, a member of Friends of Bailey Hill, said: "The main problem is that the custodian's cottage at the entrance to Bailey Hill, which is owned by Flintshire County Council, has been left empty for a year and had to be boarded up.
'Very angry'
"The custodian used to lock the gates, pick up litter and have a general presence there."
She said vandals had broken in to the building and caused damage, adding: "It still isn't resolved so we have got a petition with 700 or 800 signatures on it which we are giving to Flintshire County Council's chief executive in the next couple of weeks."
Ms Mearns said people were "very angry," because the area was "a historic site, where Mold originated from".
Bailey Hill was once home to a Norman motte and bailey castle.
Plans to develop the site - including the possibility of re-creating a replica castle - are being discussed in order to boost tourism.