Tributes as north east Wales coroner John Hughes dies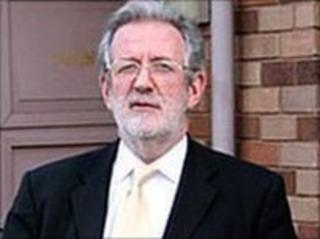 Long-serving North East Wales Coroner John Hughes has died at the age of 68.
The Wrexham solicitor, who became coroner in 1982, retired on health grounds last month and died on Thursday.
He was diagnosed with cancer in July 2008 and was off work for a year, returning in August 2009. However, the cancer recurred late last year.
A colleague paid tribute to his wisdom and said he served his community with "honour and integrity".
'Friend and mentor'
Mr Hughes died in Wrexham's Nightingale House Hospice on Thursday.
Acting coroner John Gittins said: "His death is a huge loss to everyone whose lives he ever touched, whether professionally or on a personal level and as my friend and mentor, his wisdom and humour will be greatly missed."
Mr Hughes qualified as a solicitor in 1971, working initially for Wrexham Rural District Council before going into private practice in Wrexham and setting up John Hughes, Foulkes & Reeves of King Street, Wrexham.
He joined Gittins McDonald Solicitors, Overton Arcade, Wrexham, in February 1999.
Mr Hughes was also coroner for north Wales central.
Mr Gittins said: "As coroner, John has served the community in which he lived and worked for almost 30 years and has always done so with the utmost honour and integrity."