Secret Gwersyllt mine documents discovered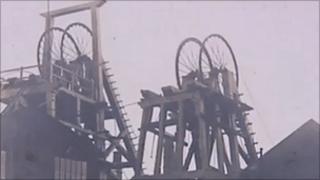 A chance meeting on the web has helped unearth documents providing insight into one of Wrexham's best-known old mines.
The Gwersyllt and Westminster Colliery closed in 1925, but new items charting its history have gone on show.
Peggy Jacobsen, granddaughter of the colliery's last owner, Ben Kay, made the discovery.
The North Wales Miners Association Trust now hopes to put the documents on permanent display.
The hoard includes legal papers dating from 1790, wedding certificates, pictures of Peggy's grandfather and his staff and an old helmet believed to have used in the Gresford mine - the scene of an explosion which killed 266 men in 1934.
Mrs Jacobsen posted a message on the Welsh Coal Mines online forum seeking a use for the documents after finding them in a box that once belonged to her mother in her garage.
Her message was spotted just days later by Margaret Jones, membership secretary for North Wales Miners Association Trust, who suggested they should be archived for students of history.
Mrs Jacobsen said: "That box had lived with us in South Africa for 40 odd years and prior to that lived in my grandmother's loft for 40 odd years and nobody knew they existed.
"I found them tucked away with a collection of old LPs."
The centuries-old documents were then sent to Ms Jones and have been given to the trust on long-term loan.
It is hoped they will be passed to the National Library of Wales.
The trust eventually aims to have a North Wales Mining Museum and believes the documents would offer a valuable contribution to the collection.
On Saturday they went on display in Gwersyllt for the day and Mrs Jacobsen's family travelled from their home in Dorset.
They are in surprisingly good condition and written in an older style of English, which Ms Jones will need to transcribe before she can see how much new information they provide.
What is clear is that they provide a fascinating insight into the life of Ben Kay and his wife Anne who Mrs Jacobsen and her mother Jennifer never met.
Mrs Jacobsen said: "My granddad was a bit of an inventor.
"Apparently he was brilliant and he died very young, he was only 52 - I would have loved to have met this man."