Refurbs Flintshire helps jobless people to find work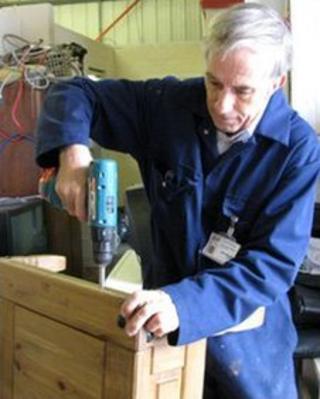 A jobs programme in Flintshire to help people into full time employment is being extended.
Refurbs Flintshire a furniture and appliance re-use charity in Flint, took on 25 people last June in a one-year project.
Since then 13 have gone on to find full-time jobs, two have secured full-time university courses and eight are still on the work programme.
The scheme has now been extended and new recruits are being taken on.
Co-ordinator Catriona Learmont said: "People are coming onto our programmes unemployed and often despondent, but many are leaving here with full-time jobs and a future."
She said the charity offers the participants work experience opportunities in carpentry and joinery, electrical appliance repair and testing, furniture refurbishment and restoration, customer service, administration and operational activity.
Recruits have gone on to take up employment in areas such as delivery and care work to engineering and stores management.
One person set up as a self-employed handyman and two others were encouraged to go into university education to study music in Cardiff and a sports degree in Liverpool.
The charity offered places to young people not in employment, education or training, and to unemployed or economically inactive people aged 50 plus.
Originally, the charity recruited three groups of jobless people for 16 weeks' paid work experience and training.
Another programme has now been set up and runs until June 2012.
It is divided into 11-week periods with three candidates already finding full time work in the first wave.
The second of six intakes has just begun and there are still places available.
The programmes are funded by the Wales Council for Voluntary Action (WCVA) and the European Social Fund.
Successful applicants are provided with paid work experience and training, together with accredited training and individual job search support.