Buckley 'masterplan' developers show 'genuine interest'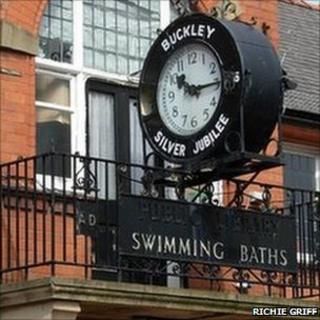 Potential developers are showing "genuine interest" in plans to revive the fortunes of a Flintshire town.
Buckley Masterplan focuses on attracting a new supermarket to Buckley, as well as creating a "cultural and evening leisure quarter".
Now, councillors are being asked to ratify proposals to start to turn the aspirations into reality.
These include firming up the plans for a new shopping precinct and finding a developer to manage the project.
A report to Flintshire council's executive committee says the plans have been presented to both potential developers and major retailers as part of "detailed discussions".
And it adds that the "options put forward are achievable", saying there is "genuine and current development interest" in Buckley town centre.
'Potential'
Local businesses and the town council formed a partnership and commissioned consultants to identify town centre needs along with residents' ideas.
The county council is also heavily involved and is one of the biggest property owners affected by the plans in Buckley town centre.
The master plan suggests three areas for development - creating a Mold Road cultural and leisure quarter, a "strengthened" High Street and a town centre expansion around Precinct Way.
Councillors agreed to allow officials to start "negotiations with necessary landowners in order to identify the potential site area(s) available for development" and to "identify interested developers capable of bringing forward a development scheme for Buckley".