Ruthin residents asked to help shape town's future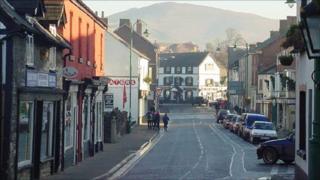 Residents in a Denbighshire town are being asked to help shape the area's future in a week-long series of events.
Ruthin "Future Week" is backed by the Design Commission for Wales (DCW), which described Ruthin as a "case study for the future of market towns".
Events will include meetings for residents to give their views on how the town should develop.
There will also be advice from business and PR experts, and tours to get to know the area better.
The event runs until 29 May.
It follows the launch of the "Ruthin: Market Town of the Future project," which was launched in April 2010.
It saw architecture students from Cardiff University visit Ruthin to draw future possible plans.
The aim was to develop a long-term "master plan" produced by local people, against which any future developments will be judged.
The scheme's creator, Gavin Harris, said market towns like Ruthin were struggling to keep their shops against competition from out-of-town retailers and the internet, and had to re-invent themselves to thrive.
Mr Harris, chair of Bro Rhuthun Tourism Group and a town councillor, added: "It's time for the people of Ruthin to get involved by airing their views and sharing their ideas.
"It's an exciting programme lasting seven days for voices to be heard, eyes to open and brains to engage with positive ideas about the future of Ruthin."
'Hugely important'
DCW - set up by the then Welsh Assembly Government in 2002 to "champion good design and a high quality built environment" - will stage various events, including an open debate called "Whose town is it anyway?"
Chief executive, Carole-Anne Davies, said: "We're really excited to be part of this wider programme of events about Ruthin's future.
"The design of the built environment plays a hugely important role in the overall health and economic value of the town or city, by stimulating regeneration and tourism, encouraging investment and helping to keep it alive.
"We will be exploring some of these themes through our events, as Ruthin is such an interesting case study for the future of market towns."
Other events include an exhibition detailing suggested designs so far, as well as advice from business and PR professionals.
A photography competition, designed to encourage residents to get to know the town better, will also be staged.