Concern over Glan Clwyd hospital new stroke unit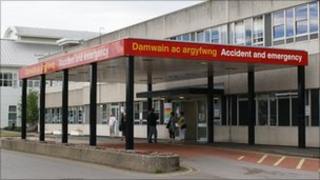 Concerns about facilities at a new centralised stroke unit at a north Wales hospital have been raised, only days after it opened.
A local MP and AM want assurances over the service at Ysbyty Glan Clwyd.
Health officials, who moved rehabilitation stroke care from HM Stanley Hospital, St Asaph, say the refurbished unit offers a "comfortable, peaceful and calm environment".
Health watchdogs are to seek patients' views.
It is understood the concerns are about the facilties on offer in the Bodelwyddan hospital to patients as they try to recover from the effects of a stroke.
Vale of Clwyd MP Chris Ruane is now writing to the chief executive at Betsi Cadwaladr University Health Board (BCUHB).
And north Wales AM Mark Isherwood has written to new health minister Lesley Griffiths raising concerns of people who liken part of the new facilities as "little bigger than a cupboard".
Mr Ruane says the previous facilities offered patients excellence and he is asking if the new facilities are as good as those they replaced.
The unit has been revamped and extended to accommodate 30 beds.
The health board say research shows combined acute and rehabilitation unit was the best way to provide stroke services.
A statement said the aim is to provide "first class stroke care to patients" in line with national standards and guidance from the British Association of Stroke Physicians.
Meanwhile, a spokesperson for health watchdog Betsi Cadwaladr Community Health Council (BCCHC) said it had been made aware of the complaints, adding members will now be visiting the new facilities to "engage with patients".
The health board announced plans to move some of it facilities out of HM Stanley Hospital in 2010, saying it is "no longer fit for purpose".
That prompted Mr Isherwood to write to the BCUHB chief executive after being contacted by patients who wanted services to remain at HM Stanley Hospital.
Mr Isherwood, who is founder of the campaign group Community Hospitals Acting Nationally Together (Chant), says the concern locally is that new facility is not an improvement but a deterioration.
A health board spokesperson said: "The acute unit provides specialist stroke services immediately after the stroke.
"The combined rehabilitation unit provides a streamlined service to patients and maximise their chances of recovery.
"The unit has been refurbished and extended to ensure a comfortable, peaceful and calm environment and a conservatory and garden area is also planned."
The spokesperson added that the decision to relocate stroke rehabilitation and day hospital to Glan Clwyd was taken following "close engagement" with clinicians, CHC, service users and carers, the voluntary sector and staff affected.
"We were aware of the concerns of a very small number of staff and these were taken on board as part of the engagement," said the spokesperson.
A major redevelopment of Glan Clwyd is under way and is expected to cost £100m, including improvements to facilities and services in accident and emergency and critical care.