Headlands care home, Llangollen, £70,000 death fine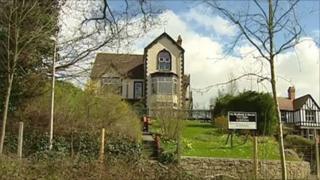 A nursing home company has been fined £70,000 after an 89-year-old resident became trapped in a bed rail and died.
Elizabeth Roberts died of asphyxiation when her head and neck got trapped between the headboard and "cot sides" fitted to stop her falling out.
At Mold Crown Court, Dee Vale Homecare Services Ltd, which owns Headlands Nursing Home, Llangollen, Denbighshire, admitted a health and safety breach.
There had been a similar incident three weeks before her death in August 2008.
Despite the "near miss," staff did not appreciate the potential dangers, the court heard.
Judge Niclas Parry said the death was "so thoroughly avoidable," and despite the previous incident, the "most obvious warning was not heeded".
There was "a complete failure" to provide adequate training for the use of the rails.
He said: "These events were wholly foreseeable. Simply put, those working for this company did not know how bed rails should be assembled, fitted, assessed or re-assessed."
The judge added that there was an "alarming lack of knowledge" among those in charge.
The Wrexham-based company admitted a health and safety breach and breaching the Management of Health and Safety at Work Regulations 1999.
It was fined £70,000 with £21,800 costs.
The judge said it was clear from a letter sent by Mrs Roberts' husband that the staff were dedicated and caring.
Hourly checks
But the earlier incident had been an aggravating feature, he said, adding that those running the home were not made aware of it at that stage.
"She was extremely susceptible to harm - the decision to initiate bed rails was because she had fallen on a number of occasions," the judge said.
The court heard Mrs Roberts was vulnerable, suffered from dementia, was unable to communicate and had involuntary movements in her sleep.
She had been a resident at the home since 2002.
The night before she died, she had been checked hourly, but staff discovered her one morning at 0630 BST, with her head trapped between the bed rails and headboard.
The home was set up by directors Keith Roberts, a nurse, and his wife Helen in 1985.
Judge Parry gave the company maximum credit for its guilty plea, adding: "This is not a case of conscious neglect but alarming ignorance."
The court heard that the home no longer uses bed rails.
The investigation into the home was led by the Health and Safety Executive. Inspector Sarah Baldwin-Jones said: "This is a terrible incident and one that could have been easily avoided."
She added: "To assist home owners, free guidance on the safe use of bed rails has been made widely available for a number of years.
"This home could have taken the simple steps provided in the guidance to train care staff and implement a safe system of routine inspection and maintenance at their home.
"Had this occurred at the Headland Nursing Home, Mrs Roberts' death could have been prevented."