Bill Darwin wins accolade for Kinmel Bay Girls FC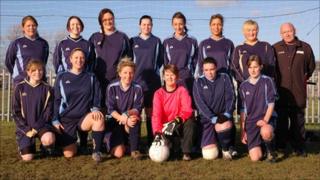 A father who started a girls' football team nine years ago to give his daughter and her friends coaching has won an achievement award.
Bill Darwin has seen Kinmel Bay Girls FC, Conwy, grow to six girls' teams for seven to 15-year-olds as well as women's teams.
They all play in the North Wales Girls' and Women's Leagues which he helped set up and now includes more than 35 teams.
Mr Darwin has just been honoured in the Welsh Community Football Awards 2011.
His award comes just weeks after the Welsh Football Trust - the community arm of the Welsh FA - presented Kinmel Bay Girls FC their gold standard in an accreditation scheme "to enhance and improve standards of grassroots football across the country".
The trust says it is the first time a youth club has achieved the standard, something which makes Mr Darwin proud.
He said he and his sister, Anne Darwin, coach the girls and aim to improve their development, rather than "look for silverware".
"It's nice to know that we have done it the right way," he said.
The first all-female team began in May 2002 at around the time the popularity in girls' football started to rise, with the girls' junior league set up later that summer.
Winners
And since then it has grown to host 29 teams from a dozen clubs.
The various teams at Kinmel Bay Girls FC train on different days each week, as well as three boys' teams which were introduced last year.
Although Mr Darwin's daughter Alex, 21, no longer plays in the local leagues, other girls have been able to continue.
That is because Mr Darwin also helped to establish a women's league, now called North Wales Coast Women's League.
On a visit to the club to present the gold accreditation, former Wales and Liverpool footballer Ian Rush said: "Bill Darwin and his team have helped to develop a strong sense of community ...and are a great example of the thriving grassroots football programme in Wales."
Last week, Mr Darwin was presented with an achievement award by the North Wales Coast FA in the regional heat of the Welsh Football Trust's national competition.
The Welsh Community Football Awards recognise young players, coaches, volunteers and clubs in the six regions across Wales.
Prestatyn School has been named school of the year in the region after reaching the Welsh Schools FA girls' final at under 14 and under 16 age levels.
As regional winners, Mr Darwin and Prestatyn School have been shortlisted for the national finals, to be announced at a ceremony in Cardiff in June.