'Train' pony taken into care by Wrexham council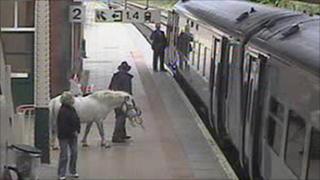 A pony which attracted worldwide attention after CCTV showed a man trying to take it on a train has been taken into care.
The animal, believed to be called Ruby, was spotted grazing on council land near Wrexham Maelor Hospital.
Wrexham railway staff had refused to allow it onto the train, and the RSPCA expressed concern for its welfare.
Pictures also emerged of it with the man at other locations, including the the hospital reception area and a pub.
"A Welsh pony was taken to a place of safety on Tuesday, 31 May by council officers assisted by the RSPCA," said Wrexham council.
"It is thought the pony is linked to the recent reports in the media.
"The pony was found straying on council land over the bank holiday weekend.
"Council officers are investigating reports that the pony had been abandoned on a number of nights at unsuitable locations, including the hospital helipad and the cemetery in Pandy.
"A number of complaints have been received from the public raising concerns over the welfare of the animal and public safety issues.
'Untethered and unaccompanied'
"On a number of occasions the animal has been left untethered and unaccompanied close to busy roads.
"The pony has been examined by a vet and will be looked after in a secure place."
A notice has been pinned up at the site asking the owner to get in touch within 14 days to lodge a claim to the pony.
After the man had tried to travel with the pony on the train from Wrexham to Holyhead on Anglesey, the RSPCA said it was neither a safe nor acceptable way of travelling with a horse.
Arriva Trains Wales said transport had been refused because horses were not allowed on safety grounds.