Megan Fletcher's cancer guide attracts global interest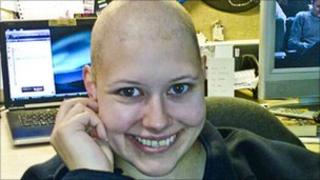 An internet guide and pamphlet about living with cancer is still attracting interest, a year after the death of the 21-year-old student who inspired it.
Megan Fletcher died of cancer in her mother's arms in May last year.
It was only after her death that her mother Fiona discovered her daughter had used her remaining time to write advice for other sufferers.
Mrs Fletcher, from Wern, Bersham, near Wrexham, says she receives calls from around the world about the website.
Megan enrolled at Plymouth University to study human biosciences, but at the age of 20 she was diagnosed with refractory Hodgkin's lymphoma, an aggressive cancer which proved resistant to chemotherapy treatment.
But her mantra throughout her ordeal was "My name is NOT cancer" (MNINC).
That became the title of the pamphlet published by her mother, and also of a website which was launched in March.
It offers practical advice, and expands on her work, including her poetry, and invites contributions and experiences from others.
Mrs Fletcher said: "The website is not a memorial to Megan.
"It is a resource for patients, the real people who are facing this disease, to give them confidence to say 'I'm still me'.
"I hope the professionals will look at it and do more to help people retain their sense of self - and that it is not just about a treatment regime."
She added: "She was ill for 16 months and experienced all the different emotions which go along with being diagnosed with cancer.
'Incredibly lonely'
"It was during that time she was supported by many remarkable organisations that offered her financial and emotional support, however there was this area of her life which was not being met and it resulted in Megan being incredibly lonely during her journey with cancer.
"She then decided if she created hints and tips for other people, that she did not have access to, it might help them take control of their identity back from the disease."
The website has also information about fundraising advice and there is a letter from Megan about how she coped with the disease.
A passage from Megan's letter reads: "I have decided to accept my place back at Plymouth University later this year (in September 2010).
"Gives me something good to focus on. As to whether anyone think it's unrealistic… it's my life, my body, my positivity, my energy… and I am sooooooo excited and happy."
Megan died before she could resume her studies, but she was awarded a posthumous degree by Plymouth University.
Not-for-profit MNINC is available at cancer treatment centres across the UK and in the Middle East, where the Fletchers lived for 10 years.
Mrs Fletcher receives calls from around the world from people who have been inspired by the website, and said she had been been approached about translating the MNINC pamphlet into French, Spanish, Italian, German and Arabic.