Corwen Pavilion's demolition halted by injunction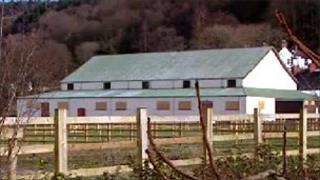 Campaigners have won a further stay of execution against council plans to demolish their closed community centre in Denbighshire.
In April, supporters of Corwen Pavilion secured an interim injunction just days before it was due to be flattened.
Denbighshire council has previously said the 99-year-old building would cost £2m to £3m to replace.
Residents have now won the right to present the council with a report showing costings to save the building.
The pavilion was temporarily closed in March 2009 after asbestos was discovered and the closure was made permanent the following month.
One of the campaigners, Esmor Davies, a builder, said the group believed less than £50,000 was needed to make the building safe or £500,000 to replace the centre.
Fully committed
A statement by Denbighshire council said it has agreed not to demolish the building until the county court proceedings are completed.
However, it was not all good news for campaigners.
"Our stance regarding the pavilion remains the same," said Jamie Groves, head of leisure, libraries and community development, in a statement issued after Monday's court hearing.
"During meetings in Corwen, we have made it clear that the council does not have the funds to build a new pavilion, but is fully committed to transferring the title of this land over to the community who will be required to set up a charitable trust."
Mr Davies, said the group had, so far, raised between £60,000 and £70,000 towards costs to restore and reopen the pavilion.
They have until 1 July to commission a surveyor to produce an independent report on the costings required to reopen the pavilion which the council deemed beyond economic repair.
A further court hearing is due to take place in early July.