£100m schools shake-up planned in Flintshire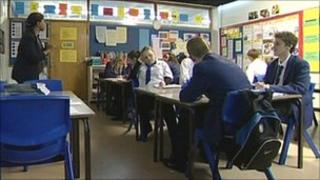 A multimillion-pound shake-up of secondary school education is being discussed in Flintshire.
The authority's chief executive has pledged the motives are "not about saving money" but "looking to the future".
A briefing document says under-used buildings and surplus places incur costs which it wants to redirect.
There have been reports of school mergers, but the council says nothing has been decided.
Flintshire's lifelong learning overview and scrutiny committee were discussing the outline plans in a meeting on Thursday.
Officials want to start consultation with schools, governors and parents in Flintshire over the coming months with a deadline some time after the restart of the September term.
The briefing document says surplus places exceeding 25% now exist in three of the dozen high schools in Flintshire: Holywell High; Elfed, Buckley; and John Summers, Queensferry.
Fight
"Maintaining under-used buildings (surplus places) incurs costs, and any savings made from the removal of surplus should be directed to the front-line educational provision, paying for teachers, teaching assistants, learning resources and improving learning environments," says the document.
Council chief executive Colin Everett said the "modernisation" project could cost anything between £50-100m.
There have already been concerns raised that some of the schools could be closed.
Sealand councillor Christine Jones told the Leader newspaper John Summers was a "brilliant school on our doorstep" and parents would fight to maintain it.
But Deeside college principal David Jones told the Flintshire Chronicle that while major change can be unsettling, the county's education system is long overdue transformation.
The council stresses that the plans are at an early stage and there will be opportunities for people to share their views before any decisions are made.