Tailor James Williams turned rags into prized quilt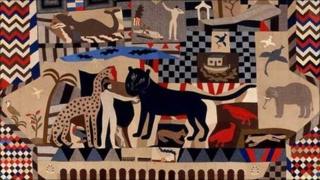 Museum curators are appealing for help about a little known Victorian tailor who made a prized piece of art, a Welsh quilt.
The bed cover is made from 4,500 pieces of wool cloth and was created in 1842 by James Williams, a Wrexham tailor.
St Fagans museum in Cardiff bought the quilt in the 30s.
Now, they want to know about the man who made it ahead of the Welsh cultural festival, the National Eisteddfod, being held in Wrexham in August.
St Fagans is home to over 200 examples of Welsh quilting and patchwork which has a long history and, some say, inspired Amish quilting in Pennsylvania, USA.
'Undeniably Welsh'
Some were made as cheaply as possible, utilitarian in purpose, while, in the 19th Century, they become more decorative.
Williams' work - said to possibly have been made from military uniforms - took him 10 years to make, according Elen Phillips, costumes and textiles curator at St Fagans: National History Museum.
Whilst not a traditional Welsh quilt - which has geometric styles with spirals, leaves, hearts and motifs - it is called inlaid patchwork but it "undeniably Welsh" because of the imagery.
It shows the tailor's "creative flair" as well as his "appreciation" of the engineering achievements of his day - as well as scenes from the Bible - with Menai Suspension Bridge on Anglesey, Gwynedd, as well as Cefn Viaduct, Cefn Mawr, near Wrexham.
In total, the coverlet consists of 4,525 separate pieces of cloth, all hand-stitched together resembling mosaic over two square metres.
The bed cover was purchased by the museum from the tailor's grandson, Richard James Williams, in 1935.
Widely regarded
According to family history, his grandfather made the quilt between 1842 and 1852.
From researching census returns, the Miss Phillips, says it seems that Williams was born in Wrexham circa 1818 and died in the town in 1895.
His tailoring business appears in trade directories from 1850 to 1895.
She is giving a lecturer on the cover during the National Eisteddfod but the work will not be travelling north from Cardiff due to concerns over its conservation.
However, it seems to have been appreciated for many years, having been shown at previous eisteddfodau in 1876 and 1933.
Miss Phillips says the museum is continually receiving enquiries from quilters around the world, particularly Canada, the US, Australia and Japan, as Welsh quiltmaking it widely regarded and still popular today.
The museum also runs its own quiltmaking class which meets every two months.