Soldiers march to celebrate 'freedom of Denbighshire'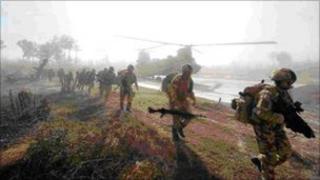 More than 100 soldiers have marched through Denbigh after being granted the freedom of Denbighshire.
Saturday's honour was granted to 1st Battalion The Royal Welsh Regiment for its "eminent services to the county".
The battalion has a long connection with the county town of Denbigh and Denbighshire.
Beginning at Caledfryn council offices, the parade continued down Smithfield Road, through Lenten Pool and on to the town centre.
During World War I, Denbighshire alone raised one yeomanry and four rifle battalions, amounting to more than 17,000 soldiers - a history that still connects the county with the battalion.
The soldiers recently completed Exercise Askari Thunder, a six-week training tour in Kenya, and Exercise Cold Dragon, which involved live firing training in Sennybridge, Brecon.
In mid-December 2009 the battalion deployed as an aviation assault battle group.
For the first six weeks operations were conducted in the insurgent held areas of northern Afghanistan's Nad-e Ali District before they took part in Operation Moshtarak.
The Denbigh parade was inspected by Denbighshire council chairman Bill Cowie. Regimental goat Billy led the Band of The Prince of Wales' Division in front of the troops.
A detachment from the Clwyd and Gwynedd Army Cadet Force and members of the Regimental Association were also on show.
Commanding officer Lt Col Steve Webb said that "soldiers take part in these events with an enormous sense of pride".
He called it privilege to be involved and that there was no better support for soldiers than "seeing so many members of the public giving you fantastic welcomes in the cities, towns and villages across Wales".