Consultants call for hospital shake-up in north Wales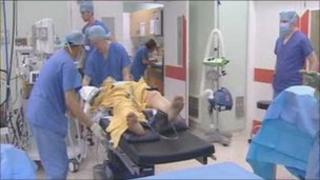 The Royal College of Surgeons is recommending a shake-up in general surgery provision across north Wales.
The RCS' public affairs body in Wales stopped short of calling for one "super site", saying it was too "sensitive".
Health officials are reviewing services provided at general hospitals in Wrexham, Denbighshire and Gwynedd, as well as other facilities.
That has prompted concern from some patient groups worried local facilities could be lost.
Meanwhile, health watchdogs say they are concerned and are calling for more discussions.
The report by the Royal College of Surgeons of England (RCSE) Professional Affairs Board (PAB) in Wales says it was called in by surgeons at Ysbyty Glan Clwyd in Denbighshire.
The consultants were concerned services were in "jeopardy" and felt their views had not been "properly taken into consideration" in the review process.
On that basis, health officials leading the review at Betsi Cadwaladr University Health Board (BCUHB) agreed to the PAB taking part in the consultation.
Its report said keeping the "status quo" at Wrexham Maelor, Glan Clwyd and Gwynedd hospitals, while receiving the least opposition, would serve patients "poorly".
Last October, the BCUHB ordered a review of services in emergency surgery, haematology, orthopaedics, maternity and child health.
That sparked a big outcry amid concerns facilities such as paediatric emergency units and A&E departments could be closed and centralised on one site.
However, the PAB report said the optimum "configuration" is that all emergency and acute services are provided together on a single site.
But it added that was probably not feasible given financial constraints and that the "prospects of closing A&E and acute medical services on any site may be politically unacceptable".
'Very concerned'
It suggested a "compromise solution may be required", putting forward a second option of creating two acute sites and a separate elective site.
The report said consultants who responded to its survey formed the "greatest degree of consensus around this option, although a significant proportion favoured a single site".
"With regard to the geographical location of a two-site solution there are valid arguments for locating services in different ways on each of the current sites" it said.
"We believe that making progress around a decision on one of these options is the essential first step to further deliberation on the matter."
Andrew Jones, chair of the BCUHB project group co-ordinating the overall service review, described the RCS report as "important" information.
Patient watchdog, Betsi Cadwaladr Community Health Council, claimed the RCS' report did not take into account how patients would be expected to travel further if some services were lost from one hospital site.
The spokesperson said the CHC has been "very concerned" about the way the health board has gone about discussing any changes with local people.
"We understand the factors which the board believes make some change inevitable, and clearly some surgeons agree with the board.
"But we look forward to much more discussion about what changes are really needed and what must be done to address the disadvantages that will go with any of the options which have been mentioned so far."
The RCS' report will be discussed at a meeting between the health board and consultants next month.
A BCUHB spokesman said further engagement will be undertaken before any recommendations are made.