Halkyn library stays open with anonymous donation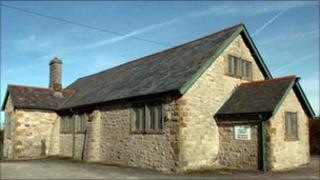 A village library in Flintshire has been saved from closure after an anonymous benefactor donated money.
The donor has given "a reasonable proportion" of the £4,600 needed to keep Halkyn library running part-time for three years.
Halkyn Community Council said the library had been earmarked for closure, with five others, by the county council as a cost-cutting measure.
Flintshire council said it welcomed the donation.
The community council had warned closing the library would be "yet another nail in the coffin of the literacy of the next generation".
Following a local campaign, and a petition, it said it has managed to "plug the gap" and maintain a reduced library service for three years, after which it will be reviewed.
A benefactor has given money to the community council which says the £4,600 is enough to keep the service running for about half a day on Fridays - half the previous service.
Bob Robinson, chair of Halkyn Community Council, said: "On behalf of the community I would like to say a sincere thank you to this person.
"In this age of limited budgets and careful spending this contribution has probably tipped the balance in enabling us to reach a positive decision."
The cost and responsibility for the library will be shared between Flintshire's Library Service and the local council.