Hightown flats site ready for redevelopment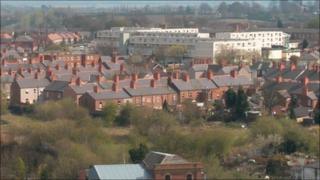 An announcement is due soon on the redevelopment of Wrexham's prominent former Hightown flats site.
Wrexham council wants to make the flattened site available for affordable housing on the outskirts of the town centre.
The area has now been landscaped and enclosed with fencing prior to development.
The authority is contacting rehoused tenants to discuss housing options.
Outline planning permission for the area was approved last October.
Council leader Ron Davies said: "We hope to make an announcement very soon about the future development of this site with emphasis on affordable homes for local people which is one of the council's priority work areas."
Surveys of the flats in 2009 identified major repairs and improvement works were needed.
In all, there were 181 flats and maisonettes within the complex along with five bungalows.
KDC demolition contractors started demolition work in January with an emphasis on recycling on-site materials.
More than 13,100 tonnes of concrete was crushed for re-use, with some being used in pre-work for the new Wrexham Industrial Estate link road, on which work is due to start soon.
Statistics show Hightown flats demolition workers sorted and recycled 280 tonnes of metals, as well as 10 tonnes of uPVC from window frames and 445 tonnes of timber from floorboards, doors and frames.