Eisteddfod criticism over Roy Chubby Brown impersonator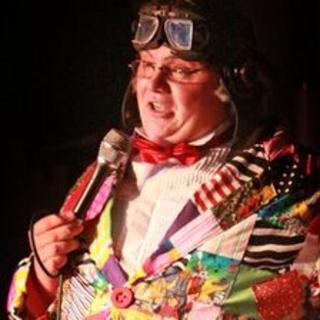 A Roy "Chubby" Brown impersonator has caused a stir before he even makes it on stage.
Dion Griffiths is due to perform at a fundraising event on Saturday for this year's National Eisteddfod in Wrexham.
Mr Grifffiths, who is originally from Barmouth, Gwynedd, is a Welsh speaker but will perform his act in English.
That, along with the nature of the real Chubby Brown's blue humour, has drawn criticism. Organisers have defended the move.
"I think it's rather a sad day for the National Eisteddfod to be involved with fundraising by this kind of act - it is a disgrace," said Emlyn Edwards, of Welsh language community newspaper Y Clawdd.
The performance will be at Llay miners welfare club, and organised by the Llay village committee.
He said it was not the right sort of show to raise funds for a cultural event and was "completely contrary to the spirit of what the eisteddfod is about".
"I appreciate [the organisers] are not directly involved with the eisteddfod but if they consider that... arranging this kind of entertainment is suitable then I could not disagree more.
"I don't want to be a Mary Whitehouse about the eisteddfod but at the same time, there are limits to the depths we can sink and I don't think this is a suitable item to raise funds at all."
'Very surprised'
Mr Griffiths admitted he was very surprised to be asked to perform, but said: "To be honest, I don't see what the big issue is.
"If it brings money in, does it matter how it got there?"
"It's a show, it's my living and it's what I do - it's an act on stage. We warn people that if they are easily offended not to go.
"It might bring in a new form of people who might not know much about the eisteddfod that have come to see the show and they learn a bit about the money it's raised for."
Eisteddfod organiser Hywel Wyn Edwards said it was not up to the festival to "act as a censor".
"At the end of the day, people have got to decide for themselves," he said.
"I should imagine anybody who knows anything about Chubby Brown wouldn't go there unless they knew what was going to happen.
"I should imagine they will go there in the knowledge of what is going to happen and then they've got to decide for themselves."