Residents vote on upper Denbigh park £26,000 revamp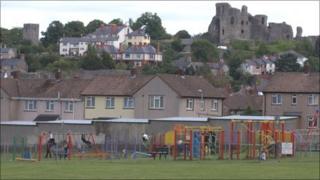 About 120 residents have taken part in a vote on how to spend £26,000 on children's play in a Denbighshire town.
Children were among those to table their own bids shortlisted ahead of Thursday's vote in upper Denbigh.
The project is called Participatory Budgeting (PB) which allows the public to decide on some council spending.
There is enough for three winning ideas: a climbing wall, £9,607; a giant swing, £8,453; and a roundabout with wheelchair access, £8,363.
Denbighshire council used the scheme last year to decide how to use £100,000 to revamp Ruthin's Cae Ddol park.
Last month, Colwyn Bay Town Council received 37 applications for its first PB project to create a calendar of events with £60,000 up for grabs.
Bill Ellis-Jones, programme manager for The Wales PB Unit, said the schemes actively encouraged communities to get involved throughout the process, from identifying local needs to delivery of ideas and solutions.
Climbing wall
In Denbigh, he said the idea was to create the best play facilities for older children with limited funds.
On Thursday evening families gathered at Denbigh Town Hall to vote on the options following presentations by the finalists, including children from Ysgol Heulfre.
The money is being provided by Denbighshire council, the town Council and Denbigh Round Table, among others.
Mr Ellis-Jones said the success of the Denbigh project has been "due entirely to the time, dedication and commitment of residents who volunteered to get stuck in to bring the whole project to fruition".
"The unbroken success of PB everywhere in Wales has a common thread - the involvement of community members themselves, collaborating freely with elected and staff members of government at all levels," he said.