Corwen pavilion could be saved with £60,000 claim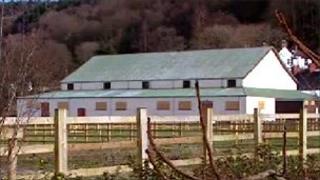 Campaigners fighting the demolition of their closed community centre say a surveyor's report proves it can be saved for under £60,000.
Denbighshire council delayed flattening Corwen Pavilion after protesters started legal proceedings.
An interim injunction was given to opponents providing they commissioned an independent survey by Friday.
The council said it was unable to comment while legal proceedings are going on.
The authority was due to start work demolition in April when campaigners started a legal bid to save it.
And they claim that report shows the building can brought up to health and safety standards for about
£57,000.
Legal representation
The authority has offered to give the site over to a community group and help them raise funds for a new building.
It has said it does not have the £2 to £3m it estimates is needed to build a new centre and that it could work with help them to help raise funds.
But opponents claim the current building can be saved with the £65,000 they have already raised.
However, some of that money is now being diverted to pay for legal representation and other costs to save the building.
A Denbighshire council spokeswoman said legal proceedings were still going on so they could not comment.
A further court hearing has yet to be held.