Wrexham Council U-turn expected on parking fees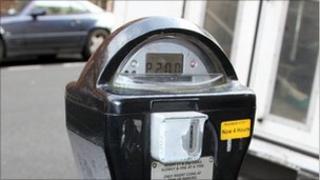 Plans to introduce a charge for on-street parking in Wrexham's town centre look set to be dropped.
Wrexham council has been consulting with traders about bringing in a 50p fee per half hour charge in parking bays between 9am - 6pm.
But officers have recommended the idea is abandoned because of a lack of public support.
Councillors will be advised to formally end the consultation at Tuesday's meeting.
A report due to go before the executive board seeks members' approval to cease all ongoing work relating to the introduction of fees.
The report by the council's head of environment John Bradbury states: "From the discussions that have taken place and the written responses received, it is clear there is little support for the introduction of on-street parking charges in Wrexham."
He adds that the consultation should be stopped "to prevent the unnecessary spending of staff resources and to allow proper consideration of the feedback received to the informal consultation exercise".
But he goes on to say that despite the negative response to the on-street parking proposals, there had been some constructive suggestions for future parking improvements.
Rob Clarke, chair of the Wrexham branch of market traders, welcomed the change of heart.
He told BBC Wales: "It's a victory for small businesses.
"I think the council had to listen to us on this one as there was not one person who was in favour of this.
"It was a very ill-thought out proposal which would have only benefited Tesco and Asda because it would have driven trade out of the town."