Wrexham Supporters' Trust ready to take over Wrexham FC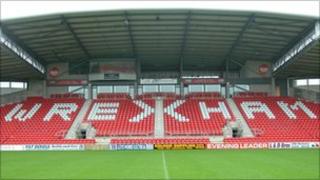 Wrexham Supporters Trust (WST) is set to make an offer to buy Wrexham FC.
The Trust said it has received the "majority" of the due diligence material needed, but the exercise has not been totally completed.
Talks are planned with the club's directors who want action "sooner rather than later".
The directors are pulling out of the Blue Square Bet Premier side, blaming fan abuse, and say they have no more funds to put in.
"The Wrexham Supporters' Trust is pleased to announce that it is in a position to present an offer to (owners) Wrexham Village to purchase the Racecourse and Colliers Park, and rescue Wrexham Football Club with the aid of third parties," a statement said.
"Crunch talks between the WST and the directors of Wrexham FC are planned under the backdrop of an imminent oblivion for Wrexham FC and its proud history.
"Having previously put forward proposals to the club, we have worked ceaselessly to revise and put forward another proposal on the basis of a much better understanding of the position of the football club and what the directors of Wrexham FC want personally.
'Telling moment'
"The Trust's proposal gives the current owners the opportunity to act quickly to create a legacy of community ownership for professional football in Wrexham which should allow the club and its assets to prosper for the benefit of the people of Wrexham and north Wales.
"This will still enable the directors to continue with their interests in the Wrexham Village project and Crusaders RFL."
The statement added: "The ball is now and has always been with them and it is for them to decide if they pass the responsibility for Wrexham Football Club to the Trust or not.
"This is a unique and telling moment for the club owners."
Any deal is dependent on the acceptance of the football authorities and Trust membership.
It would bring an end to the long-running saga over the club's future.
The club was put up for sale earlier this year and the Trust have been interested in taking over from the start.
It was part of a joint bid with local hotelier Stephanie Booth before she withdrew her offer to buy Wrexham FC, saying she had received death threats.
Then in May, businessman Colin Poole pledged cash for a takeover with the WST having a 25.1% share, before he also pulled out after what he called a confrontation with some fans.
Since then, WST have been in talks over a full takeover putting the club into community ownership.
Last week, club directors issued a statement on the club website urging the Trust to act quickly.
It said: "The Trust have been advised that they would need to take over sooner rather than later, as it is creating a vacuum regarding moving the business on in terms of sponsorship, as well as on field and off field planning."