Rhyl's City of Ottawa wreck to stay during harbour work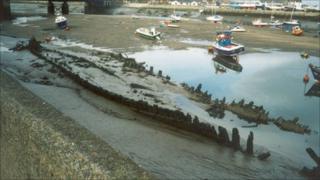 Work on a £10m scheme to improve a Denbighshire town's sea defences will be completed without disturbing the remains of a Victorian cargo ship.
Built in Quebec in 1860, the City of Ottawa was abandoned at Rhyl's Foryd Harbour a century ago.
Improvements are under way in a scheme designed to combat rising sea levels and protect thousands of homes.
Archaeologist Fiona Gale said: "The City of Ottawa is the best surviving example of its type."
The three-mast ship visited ports all over the world before being abandoned in Rhyl in 1906 after sustaining storm damage.
It was supposed to be broken up, but part of the ship survived.
Timbers
The remains of the vessel have lain on a sandbar in the harbour, with only a few timbers now visible, although part of the ship is buried under sand.
In 2008, funding was secured for a survey of the wreck, with a view to raising it and preserving what remains of the timbers.
However, Denbighshire council decided to continue with the work without disturbing the ship.
Ms Gale, the council's county archaeologist, said: "They are just timbers sticking out of the mud - they don't look particularly impressive - but the City of Ottawa is about the only ship of its type remaining.
She said it was the best surviving example of the ship.
"It doesn't maybe look that instantly, but it is, so we need to preserve it as best we can for the future."
Working around the ship is not expected to add additional costs to the work, she added.
It is hoped the ship's remains will still be visible in another 100years, "if we leave it alone", the archaeologist said.