Robert Aled Evans died in submerged 4x4, inquest hears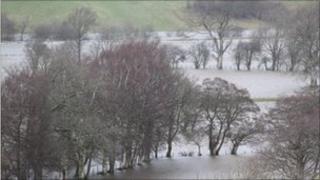 A farmer died after his 4x4 car became submerged in flood water, an inquest has heard.
Robert Aled Evans, 52, was returning home after a party in February when his vehicle became trapped near the River Dee, which had burst its banks.
He had refused an offer to stay at a friend's house and tried to make the short journey home to Llandrillo, Denbighshire, at about 0200 BST.
A verdict of accidental death was recorded.
Mr Evans's vehicle was found later on 6 February, after an extensive search and rescue operation by emergency services. His body was found a short distance from the car.
The inquest in Mold, Flintshire, heard Mr Evans was a prize-winning farmer who had shown livestock around the country.
On the night in question, there had been heavy rain and high winds in the area.
Mr Evans's brother David said: "I hadn't seen the stream that rough for years."
He explained how a water release system operated on the River Dee at Bala when flood waters were high, which resulted in rises further down the river.
The inquest heard how it was common practice for farmers in the Dee Valley to receive warnings when water was being released, so they could move livestock from areas close to the river.
Warning
Mr Evans said: "I think they had opened it three times. That's quite rare I think."
Mr Evans's mother Annette Sawyer told the inquest there had been no warning after 5pm on 5 February, although the coroner made no reference to this in his verdict.
The inquest also heard from a witness who said she had received a warning on her voicemail, although she did not pick it up until later.
On 5 February, Robert Aled Evans, known as Aled, went to a 60th birthday party in Llandrillo. He drank gin and spent the night talking with friends about his recent trip to New Zealand, the inquest heard.
After the party he went to visit his friend Diane Jones.
Ms Jones said she offered to put him up for the night, but he decided to travel home.
His empty Isuzu Trooper was found the following morning, submerged in 4ft (1.2m) of water near the River Dee.
'Genuine accident'
A police helicopter used thermal imaging equipment but found no signs of life in the car and a search was launched.
A fire and rescue crew in a boat discovered his body about 50-60m from the vehicle in the water.
Blood alcohol tests showed Mr Evans had a reading of 168mg of alcohol per 100ml of blood. The legal driving limit is 80mg of alcohol per 100ml of blood.
Kirit Champaneria, assistant deputy coroner for north east Wales, said: "I'm not surprised by that because I was told he had been to a party that evening.
"This was a case where a local man who knew the area well, he had lived there all of his life and my guess is well versed with the conditions, which I know, from the evidence of the brother, were unusual that day."
He said it was a "genuine accident", adding "he may have thought well, it was just another flood, when we know it was not.
"He may well have just had his mind elsewhere."