Wrexham's Lex XI closure fears after burglaries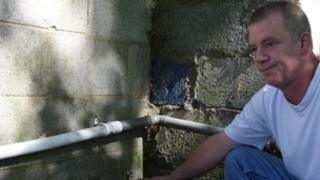 A Wrexham football club has warned it may have to fold, after a string of break-ins.
Lex XI's uninsured clubhouse has been targeted twice in the past fortnight, with thieves causing thousands of pounds worth of damage.
In the first attack, copper piping and metal shower and toilet fittings were ripped out. In the second, kitchen equipment and food was stolen.
Club chairman Dennis Hall warned: "We can't go on like this."
He added: "That will be it, if it keeps happening.
"We can't get insurance because we can't afford to make the building secure.
"Everything has to be paid for out of the pockets of committee members.
"We're struggling to cope with it. There's nothing left to take."
In the first attack, about a fortnight ago, thieves stole copper piping from showers, toilets, changing rooms and outside the building.
Repair bills
Mr Hall said they also tried to take away a mains cable, which "could have killed someone".
Days later, entry was forced into the kitchen, where deep fat fryers were stolen, and food.
The club, which has been running for 20 years, has three of its own teams and hosts others.
Committee members pay £80 a week in rent for the pitch.
Mr Hall said: "We recently took on another team, for under-16s. We were going to get new goal posts for them, but the money's all gone now.
"We haven't had the repairs bill yet, but it's bound to be a couple of thousand pounds.
"I feel sorry for the kids - there's about 40 of them. We brought them in and now we can't afford goal posts for them.
"We don't charge them subs, but it may come to a situation where we have to, and I don't think that's ever happened before."
He added: "It's got to the point where I dread the phone ringing. You just don't know if it's going to be the police saying it's happened again."
Mr Hall said the club had suffered many break-ins since it started 20 years ago, including an incident where a lawnmower was set alight on the pitch.