Wrexham council wins £6m Hafod Quarry legal fight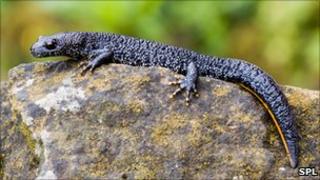 A council has won a £6m legal battle with the operators of a landfill site.
Mersey Waste Holdings Associates Ltd, which owned Hafod Quarry, sued Wrexham council when it banned the extraction of minerals from the site.
The council said it acted because part of the site became listed as a Special Area of Conservation (SAC) when great crested newts were discovered.
The council said it fought the claim "tirelessly". The company could not be contacted for comment.
Permission to work the quarry was given in 1988.
However, in 2004, following the discovery of the newts - a protected species - an area of land was designated as an SAC.
MWH Associates Ltd bought Hafod Quarry in 2006 as a waste disposal site.
The following year, Wrexham council amended the conditions of the 1988 planning permission because of the SAC designation.
One of the revised conditions required the firm to show it would not extract minerals within the SAC, or in an adjacent area which would affect its ecology.
MWH Associates Ltd launched legal action in 2007, but the Tribunals Judiciary has ruled that no compensation will be paid.
Lawrence Isted, of Wrexham council, said: "I pay tribute to the council's legal and planning officers and advisers who have worked tirelessly to achieve this outcome."
The council said it had a statutory duty to restrict permissions after the designation of the SAC, but said the decision was taken after MWH Associates Ltd said it had no intention to work the area in question.
MWH Associates Ltd sold the site in 2008 to Cory Environmental, the current operators.