Wrexham council bids to conserve Rossett's heritage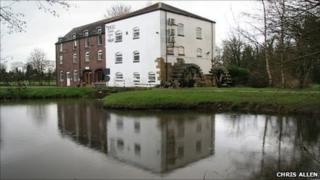 Wrexham planners are consulting with residents in Rossett over proposals to protect the village's history.
They say the community, which is on the border with Chester, should be given conservation status.
However, some people are concerned the plans could put strict conditions on making changes to their properties.
Planners say conservation status is not about preventing developments and changes, but maintaining character.
The bid focuses on the village's "historic core" along Chester Road, including large country houses, two mills, church and historic pub.
It also includes the original village road, Gun Street, as well as Station Road, a later 19th Century extension now home to a Spar shop and hair and beauty salons.
'Strike a balance'
Station Road also houses Victorian villas built by wealthy commuters when Great Western Railway opened the former Rossett station in 1846.
Wrexham ward councillor Hugh Jones said he has been trying to get the conservation status for three years due to "unique character".
"The central character and heart of the village needs to be protected," he said, referring to areas such as Station Road.
Several properties there do not have listed building status but deserve protection, he said.
A council consultation document says: "The aim is to strike a balance so that the interests of conservation are given their full weight against the needs for change and development."
Some local people are concerned about the possible adoption of a strict conservation planning rule which would mean seeking planning permission for minor alterations like replacing windows and doors or putting up a satellite dish
Wrexham council has started consulting residents and local businesses.
It is hosting a Q and A session at Rossett Village Hall on 2 August between 15.30-19:00 BST. Written comments should be submitted to the chief planning officer before 12 August.