Kayaker rescued near Rhyl Flats 'lucky to survive'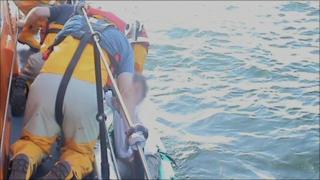 A kayaker rescued more than three miles off the coast of north east Wales had a lucky escape, say emergency services.
Rhyl lifeboat was alerted at 18:15 BST on Friday to search for the man said to be in trouble near Rhyl Flats windfarm.
The kayaker had earlier set out from Kinmel Bay to paddle to the windfarm, but ran into problems on his way back.
Martin Jones, the RNLI coxswain, said: "The man was very lucky to survive for over five hours at sea in just a T-shirt and shorts."
Holyhead coastguards were alerted by a friend of the kayaker, who spotted him in trouble paddling against the tide and confirmed his situation by calling him on his mobile telephone.
The kayaker was brought on to the lifeboat showing signs of hypothermia, said the emergency services, but soon recovered after receiving first aid.
He received further treatment from ambulance paramedics on arrival at Rhyl, but after 30 minutes was well enough to be driven back to his campsite.
Mr Jones added: "He was not equipped with a lifejacket, flares, or a proper VHF radio.
"He has now been given some safety advice.
"The only consolation was his friend on shore was watching him, but we strongly advise anyone going offshore to contact the coastguards before going out".