Denbigh castle closes for £600,000 revamp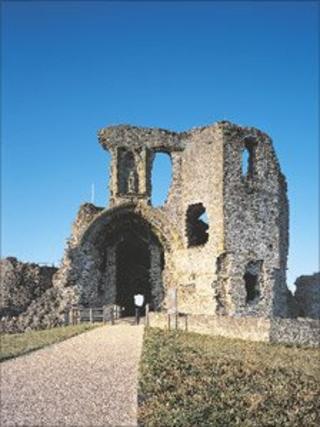 A 13th Century castle in Denbighshire is closing to the public for six months for a £600,000 revamp.
A new visitor centre is being built at Denbigh Castle and walks will be opened up around the town walls.
The castle, which overlooks the town, will shut on Sunday to allow workers access to the site.
It is due to reopen in February, and the Welsh Government said it would be a significant attraction for "heritage visitors".
Cadw, the Welsh Government's historic environment service, is investing the money from its EU Convergence-funded Heritage Tourism Project.
Regeneration and Heritage Minister Huw Lewis said: "As a key heritage visitor attraction the new facilities will include all that a visitor needs to understand, appreciate and enjoy the outstanding heritage that Denbigh has to offer.
"Better access coupled with fun activity is the key to making heritage sites relevant and enjoyable - both for visitors and people who live locally."
Last year, the town council helped set up a scheme where volunteer guides offer visitors a tour of the town, sharing its history and providing an insight into its 235 listed buildings.
Mr Lewis added: "Cadw's development at the castle will tie in very well with the work undertaken by Denbigh Town Council to develop and promote the historic town's heritage and tourism value."