Protest over fears for future of Argoed High School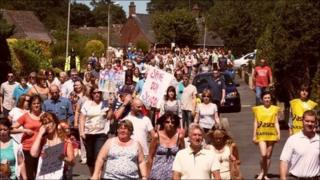 Parents and pupils have staged a march over fears a Flintshire secondary school may close.
Organisers say around 1,000 people took part in the protest over the future of Argoed High School in Mynydd Isa.
The council has launched a review of schools saying some buildings are not up to standard and there are too many surplus places across the county.
Parents fear Argoed could be closed or be merged with Elfed High School in Buckley, which has 25% surplus places.
On Sunday protesters gathered at the school gates at 14:00 BST before marching through the village.
'Chanting and singing'
One of those who took part, Stacy Kelly, said more and more people joined the march as it progressed.
"The atmosphere was amazing with chanting and singing in support of the school," she added.
"There is no doubt it is a campaign supported by the whole of the community."
Flintshire council said the review is needed because some of its school buildings no longer met the needs of pupils and staff and there were too many surplus places overall.
It is holding a series on consultation meetings and said no decisions would be taken until these were completed.
It said all councils in Wales had been instructed to reduce surplus school places by the Welsh Government, the school inspection body Estyn and the Wales Audit Office.