People's Bible: Web project visits St Asaph and Wrexham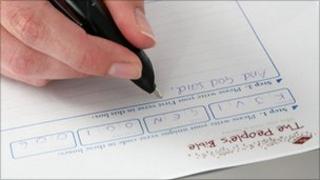 People in north Wales will have a chance to contribute to a web-based project marking the 400th anniversary of the King James Bible.
The People's Bible initiative encourages people to write two verses of the Bible with a digital pen, which are then uploaded to a website.
The finished version will be presented to the Queen in November.
The project visits St Asaph Cathedral on Tuesday and Wrexham town centre on Wednesday and Thursday, 27 and 28 July.
The King James Bible came into being when in 1604 James I ordered work to begin on a new translation of the Bible.
Dr Watcyn James of the Bible Society said the scheme would help people understand how this particular version of the Bible has impacted on them and their daily life.
"It has been so important within the English-speaking world, in churches and chapel all across the world, and also within culture generally," said Dr James.
"You could hardly begin to understand either literature or culture or politics without reference to this bible."
Dr James referred to some 257 everyday sayings - such as "the blind leading the blind," "salt of the earth" or "wheels within wheels" - which stemmed from the King James Bible.
"It will help people who would never even think of opening a Bible just to have a look and maybe be astonished at some of the things they discover when they look for their own verses again online," said Dr James.
The project was launched 19 June at Edinburgh Castle - the anniversary of the birth of King James VI of Scotland (King James I of England), at the castle, in 1566.
It will end at a special service on 16 November at Westminster Abbey.
For the next four months people across the UK will be invited to take part in the project, and the society said the result will remain on the internet for perpetuity.
The Prince of Wales has written the first two verses (Genesis 1:1-2) and Prime Minister David Cameron and Labour leader Ed Miliband will also be penning their chosen verses later this year.
St Asaph Cathedral is home to the William Morgan Bible - the first Welsh translation of the scriptures.