Dee Estuary cocklepicking crackdown nets eight tonnes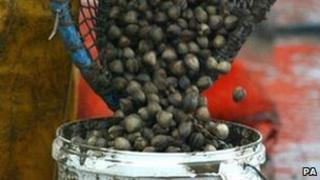 A clampdown on excessive cocklepicking on the Dee Estuary has netted eight tonnes of cockles.
Some of the 50 cocklers licensed to work the beds had the quantity of their harvest checked on Wednesday evening.
Environment Agency Wales said a number of offences were identified in the intelligence-led operation with North Wales Police and the Merseyside force.
Cocklers are allowed maximum daily catch of 300kg (660lb) to ensure only a third of the stock is taken each year.
The agency said licensees who break the rules would face enforcement action and risk losing their licences.
The sustainability-led cockle industry was set up in the estuary in 2008 and the beds are open for six months of the year.
Environment Agency Wales North Wales area manager David Edwell said: "Setting up this industry is a great success story - but we must make sure that it remains sustainable and is not threatened by some licensees who disregard the rules."