Llangollen Railway 1960s theme weekend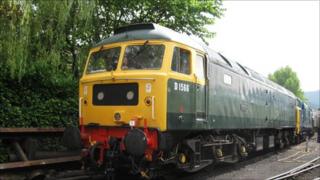 A railway line aims to recreate sights and sounds of the 1960s using more than just trains this weekend.
Organisers at Llangollen Railway hope to step back in time with period costumes, music, and nearly 100 vehicles such as the iconic Mini and "less successful" Hillman Imp.
Visitors will also be asked to come in fancy dress.
The railway is currently trying to raise cash to extend the line 1.5 miles (2.4km) to Corwen.
"The 60s was a time of great change, including for the railways - with steam engines being scrapped and replaced with diesels and railcars," said event organiser Tez Pickthall.
"So, we're running a mixture of all those things on the railway and trying to make the usually sparkling steam engine 'Foxcite Manor' look dirty and uncared for by using special paint - just like they were in the 60s as they were run down for sale to the scrap man," he added.
There will also vintage buses operating a rail replacement service between Llangollen and Carrog to explain "how Dr Beeching closed the Dee Valley line in 1964".
Mr Pickthall said Llangollen Railway was currently trying to raise cash to match funding provided by the Welsh Government to help extend the line to Corwen.
"The atmosphere should be great," Mr Pickthall added.