£50,000 boost to Roman Fort Project in north Wales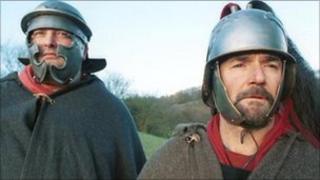 Enthusiasts have won a £50,000 prize to help fund a reconstruction of a Roman fort and settlement to teach children about history.
Paul Harston, of Caergwrle, Flintshire, runs a company giving Roman tours to thousands of children each year around Chester.
His Roman Fort Project is now looking for land in Flintshire or Cheshire.
He said:"The money will go a long way but we will have to be thrifty with it."
The not-for-profit project has been years in the planning.
Education centre
The idea is to find a plot of land to build a Roman fort as a replica of one that would have been built in the 1st Century - made of earth and wood and surrounded by a ditch.
The plan is to use original techniques using labour from other enthusiasts, organisations and businesses interested in the project.
Mr Harston also wants to see a Roman settlement created next to the fort, complete with fields of crops being managed as they would have grown in Roman times.
"The money will enable us to reconstruct a Roman fort to use as an education centre to teach Roman history and archaeology to school children across the country," he said.
The Roman Fort Project was the Wales regional winner in a Barclays competition, Take One small Step, to help small businesses.
Barclays said over 5,000 businesses registered to take part and they were whittled down to a shortlist of 27 ideas across nine UK regions by a regional panel of three judges.
The public then voted for their favourite online.
Mr Harston said he is in talks with a landowner over a possible site.