Pit memorial planned to Ruabon's mining past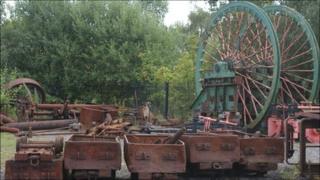 A memorial to a Wrexham community's mining history has been given the go-ahead.
A giant wheel once used to winch miners up and down a pit is to be erected on the roadside in Ruabon.
The village's community council came up with the idea which has been approved by Wrexham's planners.
In 1918 there were 60 pits across north east Wales' coal fields, including collieries in Ruabon and elsewhere in Wrexham.
"Ruabon is built on coal mining," said Councillor Barrie Price, adding it was important to acknowledge the area's heritage.
Among them was the Wynnstay Colliery, which operated from 1856 to 1927.
Some of the former pit's buildings still stand like the Grade II-listed Vertical Winding Engine House and the Walker Fan House, built in 1902 to ventilate the pit.
Half a wheel from winding gear lying among artefacts on the site of the nearby former Bersham Colliery is being used in the project.
It will be erected on the roundabout on Llangollen Road later this month.