'Forgotten' north Wales coal pits remembered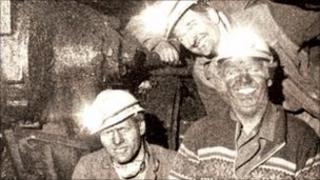 Stories of the "forgotten" coal pits of north Wales are being published by the National Coal Museum.
It is hoped the stories in Big Pit's people's history magazine GLO will encourage others to share memories.
Ceri Thompson, coal curator for National Museum Wales, said coal was much more important in north Wales than thought.
In 1918 there were 60 pits, across two coal fields, in Denbighshire and Flintshire.
Although the industry's links to south Wales are well known, Mr Thompson said people did not realise just how important the industry was to north Wales.
"Each pit had anything up to 1,000 men working in it, or as little as 200."
"When they built the ring of castles, such as Caernarfon, they were sending coal from north west Wales over, and that was in the 1300s," he added.
By 1978 there were three pits left in north Wales - Point of Ayr at Mostyn, Flintshire, and Bersham and Gresford near Wrexham.
It was at the Gresford colliery that 266 men died in a disaster in 1934.
"A lot of them are still underground as when they were trying to recover the bodies there were more explosions, and some of the rescuers also died," said Mr Thompson.
Gresford had closed by the time of the miners strike in 1984/85, when Bersham colliery went on strike while Point of Ayr continued operating
Recording memories
Mr Thompson said publishing the stories with the help of the North Wales Miners Association Trust was the beginning of a drive to record other people's memories.
"If it's not done now it'll be forgotten. It's important for the men that their children, grand-children and great-grandchildren know about it, otherwise within 30 years the memories will be gone."
Keith Evans was one of the miners whose story is told in the GLO magazine.
"I worked in the industry for many years, at a number of pits in the area, and I have to admit that I'm quite proud that Big Pit has published this magazine with my story in it," he said.
"For many years, coal mining in the area was seen as something to be forgotten, there didn't seem to be much interest in the industry that created so many of north Wales's communities.
"I go out to schools with another former miner and talk to children about our time in the pits.
"This will be a big help to us as it contains stories that will be very similar to those of the children's own relatives."
The magazine is being launched at the National Eisteddfod in Wrexham on Wednesday and is available to download free from the National Museum Wales website.