Threatened Halkyn library marks new chapter after gift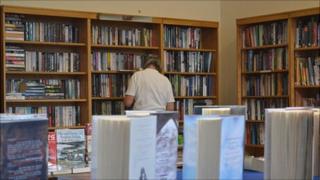 A village library in Flintshire has been marking the start of a new lease of life after it was saved from closure by an anonymous benefactor.
In June it was revealed that a donor gave "a reasonable proportion" of the £4,600 needed to keep Halkyn library running part-time for three years.
Those using the library said they were pleased an important community facility had been kept open.
Costs are being shared between the local council and Flintshire council.
The community council had warned closing the library would be "yet another nail in the coffin of the literacy of the next generation".
But following a local campaign, and a petition, it said it has managed to "plug the gap" and maintain a reduced library service for three years, after which it will be reviewed.
Albert Holme, one of the older people living in the village, said: "I love my cowboy books. I don't know what I would have done if it had closed.
"Like a lot of people I would have been lost. I've got no means of transport or getting to a different library, unless I can rely on someone to pick me up and take me there, which is very unlikely."
Halkyn library is said to be the oldest library in Flintshire, and it was stocked with books paid for by public subscription.
Bob Robinson, chairman of the community council, said: "It's an encouraging and unusual sequel to the original public funding of the library.
"On behalf of the community, I would like to say a sincere thank you to this person (the anonymous donor).
"In the age of limited budgets and careful spending, this contribution probably tipped the balance in enabling us to keep the library open."