Marks & Spencer moves Rhyl store to Prestatyn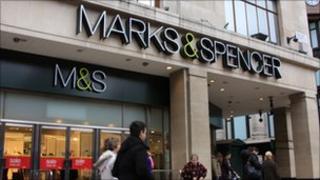 Marks & Spencer has announced plans to close its store at Rhyl next January and move to a new site at Prestatyn four miles away in early 2013.
It said it has to close the store it has occupied since 1932 because of a leasing agreement.
Vale of Clwyd MP Chris Ruane called it a "devastating blow" for the town centre.
The store will offer jobs at Prestatyn, redundancy or deployment to Llandudno or Chester to its 55 workers.
"We have started consultation on the proposed relocation of our High Street store in Rhyl to a new site at Prestatyn," a Marks & Spencer spokeswoman said.
"Unfortunately, due to the current leasing arrangements, under these proposals the store would cease trading in early 2012, ahead of the new store opening in spring 2013."
Impact negatively
Mr Ruane MP said the decision comes at a time when huge efforts are being made to regenerate the Rhyl area.
"I will be speaking as a matter of urgency to Denbighshire council and the Welsh Government to see what measures are available to mitigate the impact on staff, the town centre, other businesses and Rhyl as a whole," he said.
"This announcement is a huge disappointment and I will be contacting Marks & Spencer to discuss the issue."
Richard Henderson, manager of Rhyl's White Rose shopping centre, said: "We would be losing a terrific brand and this store serves the indigenous population well, especially older clientele who use the food hall.
"I'm disappointed and surprised they're leaving. It's a vibrant and well-used store. It will impact negatively on our footfall."