Mold pensioners celebrate 76 years as neighbours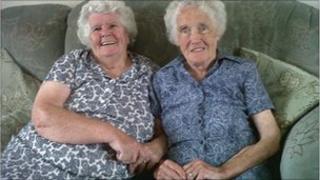 Two women from Mold are celebrating spending the last 76 years as neighbours.
Catherine Bradley and Violet Price have lived in the same semi-detached houses in the Flintshire town since 1935.
Now in their eighties, they say they have been best friends since they first moved in to their respective homes as children.
Their families are now wondering if they have set a record after being neighbours for so long.
The two friends told BBC Wales that their secret to being such good neighbours was always helping each other out.
The pair moved into their homes in April 1935, when Mrs Bradley was 10 years old, and Mrs Price was 12.
Darby and Joan
The rent on what were then council houses was just five shillings and eight pence (about 28p) a week.
Over the decades, the two friends have always been there for each other - through growing up, getting married, bringing up their families and supporting each other when their husbands died.
They still go on holiday together and to the Mold Darby and Joan Club every week.
Mrs Bradley said: "It was different back then, people were different.
"We always helped one another out. If I was making a bit of stew and realised I didn't have an onion...I would say 'I'll go to Vi's, I'll have an onion from Vi'.
"And if Vi was short she would come to me and ask me. We never went short of anything.
"When you got married the rations were on. You couldn't afford it so you had your wedding breakfast in your house.
"But the neighbours would help you. They would all give you something to make a wedding breakfast."
Mrs Price added that when they were children: "We used to knock on the wall if we were in trouble."