Seagulls killed at Rhyl beach 'by poisoned chips'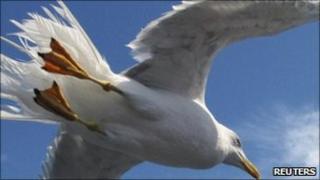 Several seagulls died and others became ill after they are believed to have eaten poisoned chips at the seaside.
The alarm was raised on Saturday afternoon after seagulls were seen convulsing and collapsing on the beach at the Denbighshire resort of Rhyl.
Police were called and a section of the beach was closed off while the cause was investigated.
Denbighshire council said three birds died and up to nine others were treated by a vet.
The council said officials were alerted after lifeguards and members of the public noticed the gulls' unusual behaviour.
Ian Olson, coastal facilities officer, said: "The RSPCA were called and sent a local officer who took the affected birds to a local vet.
Birds of prey
"The police were also called and cordoned off the area in case the birds were being affected by pollution.
"However, a post-mortem on one of the dead birds revealed that it had eaten chips laced with poison."
It is an offence to kill or injure a seagull under the Wildlife and Countryside Act 1981.
The number of seagulls in Rhyl is regularly highlighted as a problem for businesses and tourists.
Birds of prey have been deployed as one measure to deter seagulls from Rhyl town centre.
Last summer, a seagull was shot with a crossbow in Rhyl, which the RSPCA said was "highly disturbing".
Gulls have also become an issue in other areas of Wales.
A draft report to Cardiff council earlier this month said seagull numbers in Cardiff had more than doubled since 2006 to over 6,000.