Wrexham Supporters' Trust meet to discuss club buy-out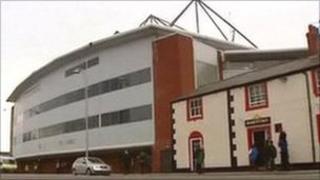 Hundreds are attending a Wrexham Supporters' Trust (WST) meeting to discuss whether to pursue plans to buy the town's football club.
WST is trying to finalise a deal with Wrexham's owners and has called a special meeting where the result of a members' ballot is set to be revealed.
A deal would bring an end to speculation over Wrexham's future.
Glyndwr University recently bought the club's Racecourse ground and Colliers Park training facilities.
WST Members have already been balloted over the buyout plans and if they are backed at the meeting on Wednesday evening, it would provide a huge step towards completing the deal.
It is not clear how long any take-over would take, and it would need to be approved by footballing authorities.
More than £100,000
WST has already warned that "tough decisions" will have to be made if a take-over is successful.
The trust is working on the basis that average attendances this season will be just more than 3,000, and is not expecting additional income from cup games.
Net losses are forecast to be approaching £500,000.
Earlier this month, Wrexham fans helped raise more than £100,000 in a day towards a £250,000 bond which had to be paid to the Football Conference to ensure the club could compete in the 2011-2012 season.