Wrexham makeover for Acton's 'four dogs' gate landmark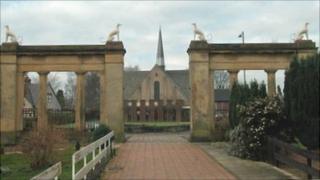 A Wrexham landmark known as the four dogs has received a makeover after the weather led to a deterioration in its condition.
Wrexham council will now inspect the statues sitting on top of the old stone gateway in Acton each year.
They mark the entrance to the former Acton estate which, in 1648, was the birthplace of the notorious "Hanging Judge Jeffreys".
He earned the nickname because of the punishment he meted out.
The gates were added in 1820 by Sir Foster Cunliffe, 3rd Baronet of Acton Park, and a member of the Wrexham Yeomanry Cavalry during the Napoleonic Wars.
The greyhound was the favourite dog of the Cunliffe family and Sir Foster had the four sculptures installed at the top.
At one time Acton Park was regarded as the chief house of Wrexham, rebuilt between 1687-95 and enlarged in 1786-7 when the Foster Cunliffes moved in.
It stayed within the family until the 1920s after descendants sold the land piecemeal. It was demolished in 1954 with the gateway the only reminder.
The sculptures had deteriorated over the years due to the elements and cost about £2,500 to restore.
Mr Lowe said: "The gateway is a well known urban landmark in Wrexham and an important part of local identity and heritage, so it's important we preserve it.
"The sculptures are very exposed to the elements and it was sad to seem them looking so weather-worn and damaged.
"I'm delighted the dogs have been repaired and repainted, and the structure will now be inspected by the council on an annual basis."
Repairing the dogs involved erecting scaffolding around the gateway and took just over a fortnight to complete.
The original four dogs were replaced with the current reproductions in 1982 and one of the originals is on display at Wrexham Museum.