Robbie Williams music 'kept Ffynnongroyw people awake'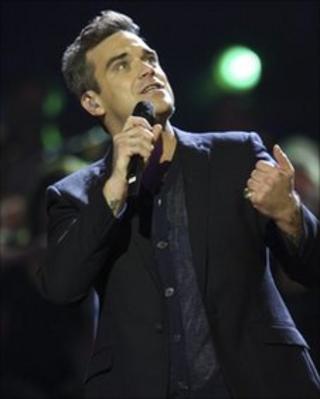 A woman played music by the likes of Robbie Williams and Froncysyllte Male Voice Choir so loudly it kept her neighbours awake, a court was told.
Stella Griffiths, 48, of Ffynnongroyw, Flintshire, had been served an abatement notice but the noise at her terraced home had persisted.
Flintshire magistrates in Mold were told she played music loudly at all hours of the day and night.
She was given a two-year conditional discharge with £500 costs.
The noise happened during the day and night, including in the early hours of the morning, and neighbours' sleep was disturbed, the court was told.
After council officials became involved, neighbours kept nuisance record sheets and recording equipment was installed.
Magistrates were told that neighbours had been complaining about the loud music since 2006.
While she particularly liked Robbie Williams and the choir, she also listened to garage, techno, pan pipes and other types of music.
The music would be heard coming from a conservatory at her house.
Council officials served a notice but the noise continued and they used a warrant to seize her CD player, amplifier and speakers.
It then quietened down for a while but, the court heard, the problem returned.
Council officials went back and seized a laptop and some speakers.
'Not acceptable'
Griffiths admitted four charges under the Environmental Protection Act 1990 of failing to comply with a noise abatement notice served by Flintshire council.
She was warned that if there was a repeat of the problem in the next two years, she would be back in court.
"She now knows that loud music in her home is not acceptable. She is taking steps to ensure that she can still enjoy her music," said Griffiths' lawyer Gwyn Jones.
"She will invest in a pair of headphones to ensure that while she enjoys the male voice choir, that the neighbours don't have to as well.
"Male voice choirs may be very nice but possibly not at six o'clock in the morning."
Magistrates confiscated an amplifier and CD player but the council agreed to return her CD and tape collection and a laptop computer.