South-north cycle trek for homeless centre in Flint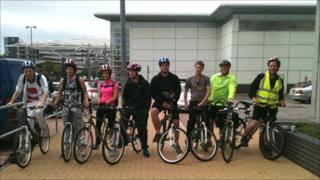 A group of volunteers have completed a 200-mile (322km) bike ride from Cardiff to Flint, to raise money towards a centre for homeless youngsters.
The group, UsUnLtd, have so far raised more than £2,000 after completing the journey on Tuesday, which will go towards a premises in Flint.
The centre will offer advice, support and work experience to homeless people.
The group already runs a cafe in Flint, which is also raising funds towards the new building.
Of the nine cyclists who completed the trek - called the Vicious Cycle - seven have experience of homelessness and volunteer for UsUnLtd.
The centre will be bought by Clwyd Alun Housing Association and run by UsUnLtd.
Suzanne Powell, of Flintshire council's Supporting People team - who provided support on the ride - said: "We're purchasing the building to create a social enterprise.
"We're going to offer work experience for people in hostels, and there will also be an information centre.
"They can arrange visits from professional staff, in an informal environment, and can get support from people who have experience of homelessness."
One of the cyclists, Math, said: "People like us want to break this vicious cycle and make our life chances better, while helping others in similar positions."
Ms Powell said the housing association was in the process of purchasing the building and it is hoped the centre will open by September 2012.