Denbigh pharmacy exhibition marks 200th anniversary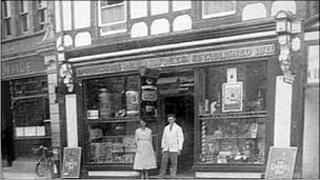 An exhibition is being held to mark the 200th anniversary of a Denbighshire pharmacy.
It is said to be one of Wales' oldest pharmacies, occupying the same site on Denbigh High Street since 1811.
Then, the pharmacist made his own medicines and perfumes, as well as acting as a coffee merchant and making house calls on horseback.
Work is under way to reinstate original features on the front of the Grade II-listed building.
Glenys McCormack, who owns the pharmacy building, is staging the exhibition in the town's library and museum.
She hopes people with stories or memorabilia, such as old glass medicine bottles, will come forward.
The pharmacy was established in 1811 by William Parry but the building itself is believed to date back to the 1500s.
Re-usable bottles
Buildings at the rear of the shop were used as a warehouse for the tea and coffee merchants - and possibly to make perfumes - and are thought to date back to the 1700s.
Ms McCormack explained that the pharmacy was started around the same time as the town's infirmary but people would also call on the pharmacist for help and treatment.
Even in the 1960s patients' medicine was dispensed in re-usable bottles with "bottle boys" employed to clean them for re-use, working from the warehouse.
And, having formerly owned the pharmacy business, she remembers people still trying to return plastic bottles in the 1990s although strict rules meant they could no longer be re-used.
Arsenic
Meanwhile, records show the pharmacy once supplied medicines to Denbigh's former Victorian mental asylum, the North Wales Hospital, which was built in 1844.
Prescription records show Latin was once commonly in use in the dispensing of medication including arsenic which is a poison although said to have medical benefits in small doses.
Work is under way to restore original features on the frontage of the building, including a glass etching carrying the name of Harrison Jones, one of the early pharmacists who was said to be a mayor of the town in the late 1800s.
The work is being carried out as part of the Denbigh Townscape Heritage Initiative (THI).
Denbigh has more than 200 historic properties and is the subject of a major heritage project to renovate its buildings.