Three summonsed after cockles seized at Dee Estuary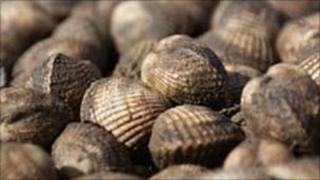 Three people have been reported for summons to court after an operation to clamp down on illegal cockling in the Dee Estuary, Flintshire.
Environment Agency Wales and North Wales Police stopped 17 licensed cocklers as they left the beds at Thurstaston on Thursday.
Two and a half tonnes of cockles was seized.
An agency spokesman said they are determined cockling in the Dee Estuary remains sustainable.
The operation is part of an ongoing enforcement campaign which saw more than eight tonnes of cockles seized in July.
Wildlife
In mid-August three men were found cockling illegally on the estuary.
David Edwell, North Wales area manager for Environment Agency Wales, said: "We are determined that cockling in the Dee Estuary remains sustainable and is not threatened by some licensees who disregard the rules.
"Taking more cockles than allowed upsets the balance of the cockle beds and reduces the amount available for next year's take - as well as the wildlife who make their home in the estuary.
"It may provide some people with a short-term gain, but it damages the future of the other licensees in the area."
Each of the 50 licensed cocklers in the Dee Estuary are allowed a maximum daily catch of 300 kilograms for this year, to ensure the beds can be re-used each year, safeguarding fishermen's income and protecting wildlife on the estuary.
A sustainable cockle industry was set up in the estuary in 2008 and the beds are open for six months of the year.