Enterprise zone 'could stop Deeside ghost town'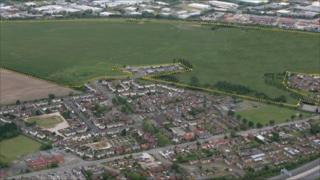 Part of Flintshire was at risk of becoming like a "ghost town" if it had not been awarded enterprise zone status, a business leader has claimed.
Askar Sheibani, chair of the Deeside Industrial Park Forum, said Flintshire could have lost business across the border without similar designation.
Deeside is one of five enterprise zones announced by the Welsh Government.
The zone will include an old RAF site and Flintshire council hopes 5,000 jobs will be created.
Business Minister Edwina Hart has announced that Deeside, along with Anglesey, Ebbw Vale, St Athan in the Vale of Glamorgan, and Cardiff, will have enterprise zones for different industries.
The sites will benefit from tax breaks, low business rates, ultra-fast broadband and other incentives to attract businesses.
The Flintshire site will be dedicated to advanced manufacturing.
Councillor Matt Wright, Flintshire's executive member for regeneration and tourism, said choosing the site, which is close to Deeside Industrial Park, had been a "no-brainer".
He added: "It's fantastic news - not just for Flintshire, but for north east Wales.
"We have taken a very thoughtful approach and we're delighted that the minister has listened.
"We think it has the potential to create 5,000 jobs.
"We already have interest from companies and this is going to put rocket boosters under that."
Askar Sheibani, chief executive of Comtek, which is based on Deeside Industrial Park, said: "The reason we are so excited and we are so happy about this is we were under a tremendous amount of danger from Wirral and Warrington.
"If we didn't get this enterprise zone it would have been disastrous for Deeside.
"There would have been a migration of businesses from Deeside to Wirral, to Warrington, and we could have ended up in a ghost town situation."
He added: "We will continue with our campaign with the Welsh Government and central government, encouraging them to support us further."
Roger Evans, chairman of the Welsh Manufacturing Forum, said: "We have to wait and see what the details are."
However, he added: "It's great that we have got the enterprise zones at last.
"I think we were in a competitive position with England and they have already got 20-odd enterprise zones, and I think that Wales had to do something.
"It's a sign actually that Wales is interested, it is open for business, especially for manufacturing in Wales."
As part of its bid to seek enterprise award status, a draft report for Flintshire council said the county was "now more manufacturing reliant than any local authority area within the UK".
According to the report, manufacturing provides nearly 34% of all jobs, compared to a UK average of 10.2%, and the enterprise zone looks set to increase that number.
A former RAF site, close to Deeside Industrial Park - where 9,000 people are employed - has been ear-marked for the zone.
'Credibility'
Owned by developer Praxis Real Estate Management, it forms part of what is known as the "Northern Gateway", which Flintshire council's regeneration department describe as the county's main employment site for the next 15 years.
According to the council's draft report the growth zone would also include 650 homes, including affordable housing, and land for businesses and offices.
Proposals also include shops, health and leisure facilities, public open spaces and "enhanced public transport links" via train and bus and links to the national cycle network.
Peter Disley, development manager, said the announcement gave a new certainty that the public and private sectors were working together.
"Over the last few months, Praxis has worked closely with Flintshire Council and has already invested significantly in putting forward the case for a Deeside Enterprise Zone.
"It is great news that our joint effort has paid off. However, now is not the time to sit back and we need to maintain strong momentum.
"Credibility is the key message and a joined-up approach between public and private stakeholders is of paramount importance."