Flintshire schools: Council to relaunch consultation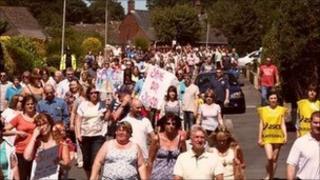 Flintshire councillors have agreed to look again at the way they consult parents over the authority's proposed re-organisation of secondary schools.
Proposals to close two secondary schools to reduce the number of surplus places have prompted protests.
A consultation launched in July was halted after some parents questioned its timing during school holidays.
Councillors voted on Monday to resume the process in October and widen the range of people consulted.
Three schools - Holywell High, Elfed High in Buckley, and John Summers in Queensferry - have been identified as having the most surplus places.
The proposed re-organisation could result in the closure of John Summers and Argoed school in Mynydd Isa.
There is also concern among Welsh-speaking parents in Holywell about an idea for the town's Welsh-medium primary school to become part of a new learning campus alongside the high school and three English-speaking primaries.
Council chiefs admitted in August that public confidence in their plan was "mixed" when a previous meeting on the issue was lobbied by hundreds of parents, pupils and teachers.